Bed bath and beyond (NASDAQ:BBBY) reported disastrous fourth-quarter results, posting a loss per share of 92 cents against consensus estimates of 3 cents in earnings per share. The results reflect very poorly the execution of the management and cast doubt on their ability to effect a turnaround. To make matters worse, on its earnings call, management said it would continue its turnaround plans and rejected Ryan Cohen's suggestion to sell his buybuy BABY business. The only silver lining in all of this is that these results have shaken management's credibility and it should be relatively easier for Ryan Cohen to rally shareholders against them. Perhaps that's why, after slipping below March 4th levels (when Ryan Cohen first disclosed his stake), the stock has seen some recovery. I believe if one is an ardent Ryan Cohen fan, the stock might make sense. However, for other more conservative, non-meme investors, it's best to stay away until some clarity emerges on the company's turnaround plan and management (either the current, either Ryan Cohen named one – if he wins the battle for control) is progressing with the execution of the turnaround plan.
Bed Bath & Beyond recently announced fourth quarter results with revenue of approximately $2.05 billion, missing the consensus estimate of approximately $2.07 billion and down approximately 22 % year-on-year. About 8% of the fall in turnover is attributable to the divestments of non-strategic brands. The remaining 14% was due to lower core net sales. Adjusted Diluted EPS turned significantly negative and came in at -$0.92, versus consensus guidance of $0.03. Gross profit margin fell to 28.8%, down 400 basis points year-on-year. Of the 400 bps decline, 360 bps can be attributed to higher port charges and freight and shipping skew, while the rest was mainly due to cost increases from 40 net basis points of product, price and promotion optimization. Adjusted EBITDA fell to -$30 million from $168 million in the same quarter a year earlier, while the company posted a net loss of $82 million from net profit of $47 million. dollars in the same quarter of last year.
The company's stock price hit an intraday low of $15.80 after earnings from the previous day's close of $17.97. However, this decline is not something new for its investors who have seen the company's share price on a downward trajectory since 2015, due to increased SG&A spending and declining gross margins. .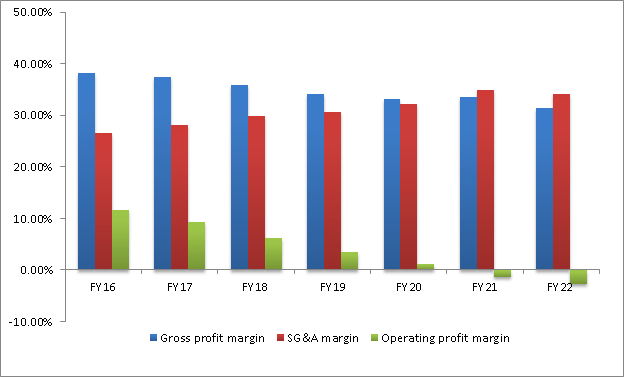 During the last fiscal year, management designed a comprehensive 3-year transformation strategy to take a step forward. This strategy is based on three pillars: improving the customer experience, unleashing omnichannel capabilities, and upgrading tools and processes to gain speed.
The plan includes the renovation of 400 Bed, Bath and Beyond stores to provide a better in-store customer experience as well as the closure of 200 Bed Bath & Beyond stores that do not adhere to the 4-wall concept of profitability. Management is also working on the opening of four regional distribution centers (RDC) in order to reduce store replenishment times and strengthen its delivery network. They signed a Letter of Intent for the West Coast RDC in Southern California, which is expected to begin construction in 2022.
Another aspect is the launch of own brands, as well as digital expansion through the development of an omnichannel to drive in-store and virtual sales while also using stores as distribution centers. They have already launched eight of the ten brands they plan to include.
The company is taking several steps as part of its transformation strategy to drive better margins, contain expenses, and deliver a better customer experience to drive customer acquisition and profitability. However, the results do not favor the viability of the transformation plan.
In a recent letter to the company, Ryan Cohen, principal of RC Venture LLP, alluded to the same point, highlighting his concerns about the company's complex transformation strategy that focuses on multiple initiatives. Frankly looking at the fourth quarter results, Ryan Cohen's apprehension seems valid. He proposed some changes to the strategy, such as splitting off the BABY buybuy business to improve valuations by reducing debt and buying back shares; cutting executive compensation which, at around $36 million, seems high given the dire situation the company is in; and focus on the company's operational capabilities and modernize its supply chain.
However, I believe management does not consider his suggestions at all. On the recent fourth quarter conference call, there was no mention of Ryan Cohen's proposed changes and transformation initiative and management shared their disagreement with the sale of the buybuy BABY banner. It's one thing when a company shows healthy numbers and doesn't bother to consider outside suggestions, but for companies like BBBY to go against it or not feel the need to take advice from outside while lagging considerably behind its peers is something shareholders probably wouldn't do. approve.
I believe the results were really bad, but there's a silver lining to that. These results further dented management's credibility and Ryan Cohen's job of convincing shareholders to vote against the current management just got a little easier. Given Ryan Cohen's success in taking over GameStop (GME) and the way retail investors have rallied behind him, there is hope that better days are coming for Bed Bath & Beyond as well. However, there is a lot of uncertainty involved and I am a more conservative investor who likes to see progress in real business before initiating a long position. So I don't think the stock is a buy based solely on hope for a potential turnaround. However, I also wouldn't recommend going short despite poor results given the involvement of Ryan Cohen and meme stock investors. Therefore, I have a neutral rating on the stock.