Introduction
In April, I wrote an SA article about Mexican silver miner Gatos Silver, Inc. (NYSE: GATO) in which I said that it is possible that the reserves of zinc or lead are overestimated and not those of silver. The the company's mine was briefly shut down afterwards, and the market valuation nearly halved. However, I think it might be a good time to open a small position. Sure, there are a lot of issues to address, but Q1 2022 production has been strong and cash reserve levels are good. Let's review.
Overview of recent developments
In case you haven't read my previous article on Gatos Silver, here is a brief description of the company. The company has a 70% stake in a joint venture that operates the polymetallic Cerro Los Gatos mine in northern Mexico, which began operations in 2019. It is a high-cost mine, and sustaining costs (AISC) on a byproduct basis are expected to be between $13.00 and $15.00 per payable silver ounce, based on the 2022 production forecast.
According to the 2020 technical report for Cerro Los Gatos, the project had a net present value (NPV) of $653.2 million. However, Gatos Silver said in January 2022 that there were errors in the technical report and that the metal content of the mineral reserve could decrease by 30% to 50%. Sounds really bad, but I think the reduction will mainly affect the zinc and lead reserves, since the production of these two metals has lagged since the mine opened. The new mining plan and updated reserve estimate are expected to be released in the second half of 2022.
Looking at the latest production numbers, I think the situation wasn't so bad. Silver and zinc feed grades improved significantly from the fourth quarter of 2022 and Gatos Silver said unit costs were below its full-year guidance range. Additionally, tonnes crushed jumped to nearly 235,000, putting the mine in good stead to surpass the 900,000 tonne mark set for 2022 in the current mine life plan.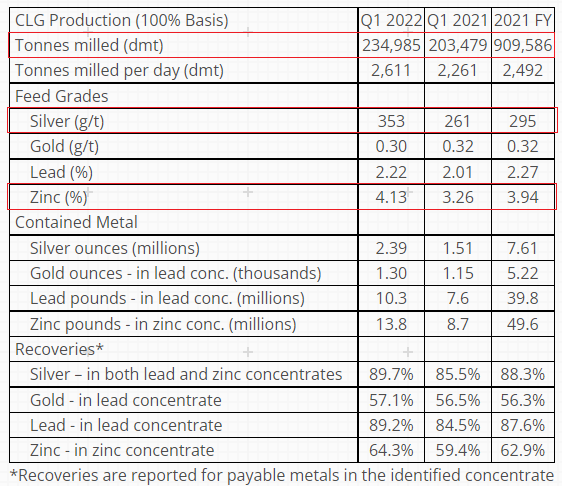 However, you can see from the 2020 technical report that zinc and lead production is still far from where it should be this year. In order to achieve these goals, Cerro Los Gatos must produce approximately 2.6 million ounces of silver, 20.8 million pounds of zinc and 10.7 million pounds of lead per quarter.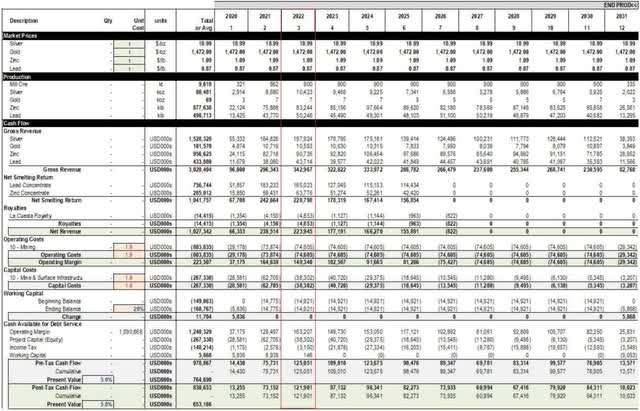 While production results are still below the mine plan, Cerro Los Gatos remains a very profitable mine. In April, the JV company paid its first $20 million dividend to its partners. Gatos Silver received $6 million of that amount, and the JV company was left with $28 million in cash at the end of April. That $6 million is about enough to cover Gatos Silver's quarterly expenses, so I think the risk of stock dilution isn't high here at this time.
So, if the production results are relatively good and the company seems to have enough cash to cover its expenses, why does the stock price continue to fall? Well, the answer is that new problems keep popping up. On April 27, Gatos Silver disclosed that mining operations had been halted after the explosives and blasting permit for Cerro Los Gatos was suspended following a blasting incident. Two explosions detonated prematurely during underground development, and this is the first time I've heard of such an accident since I started investing in mining space in 2016. It's really unusual. Fortunately for Gatos Silver, the explosives and blasting permit was reinstated and mining operations resumed less than 2 weeks later.
This mine shutdown is not expected to have a significant impact on production, as Gatos Silver has kept its 2022 guidance unchanged. The company expects high-grade ores in the second quarter to offset lower material throughput.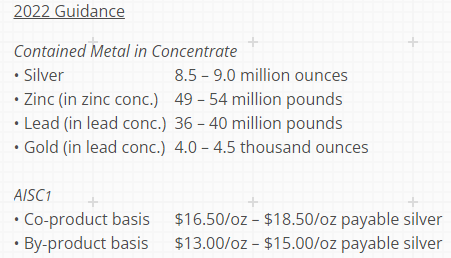 I think another issue for Gatos Silver was that an independent non-executive director died in June. It won't have a significant impact on company operations, but I think it does affect sentiment somewhat. And since the new mine plan is still not ready, Gatos Silver has still not published its annual report. With so many issues emerging in the space of just a few months, I think it's no surprise that the company's market valuation has fallen below $200 million.
All in all, I think it's a good time to buy Gatos Silver shares because there is blood in the streets. Of course, reserves will decline, but this is unlikely to affect mine life, as silver production rates are close to the original mine plan. And another accident like the one in April is unlikely to happen again. Cerro Los Gatos currently has approximately 70 million ounces of silver and over 85% of all mineral rights have yet to be drilled. In my opinion, the stock price of Gatos Silver should return to around $10 once the new mining plan is released.
Takeaway for investors
It looks like investors in Gatos Silver just can't take a break as new issues continue to emerge at Cerro Los Gatos. Still, I think first quarter 2022 production and costs were good and full-year guidance remained unchanged despite the brief mine shutdown in April.
In my opinion, the first quarter 2022 production results confirmed that the errors in the reserve model are mainly related to zinc and lead, and I think Gatos Silver looks oversold at the moment. Cerro Los Gatos' cash flow is strong and the risk of stock dilution here appears low.
I expect Gatos Silver's share price to return to levels around $10 once the new mining plan and reserve estimate is released in the coming months. I consider this one a speculative buy.